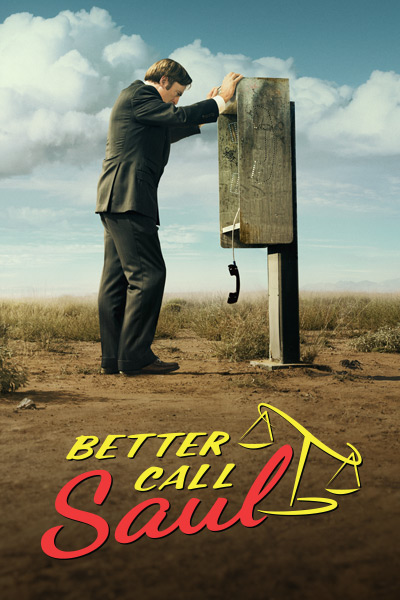 Review : Better Call Saul
Aired on : AMC (2015 - )
My Rating : 9 out of 10
I may be the only person who hasn't watched "Breaking Bad" yet. Yes, it's in my to-do list. No, it's not due any desire to be different than the population. It just hasn't happened yet. In fact, after watching the first season of "Better Call Saul", I eagerly rented and finished the first season of "Breaking Bad".
The reason for mentioning this upfront is, to let you know that, this review is written by someone who had no idea of who Saul is or was. I had no expectations, nor could I connect any event with anything that happens in "Breaking Bad". I watched and enjoyed "Better Call Saul" on it's own. I only learned later that it was a spinoff from "Breaking Bad" to give the backstory of a character.
This story is told as a flashback. Currently Saul (Bob Odenkirk) is working in a donut shop, and is miserable. The flashback picks up the story years prior to current events, when Saul was a small time struggling lawyer Jimmy McGill, real name of Saul. He has a fake office hidden at the back corner of a nail salon. He is struggling to get a client, and the world treats him like a loser. He takes care of his brother, Charles (Chuck) McGill (Michael McKean), who once was a very reputable lawyer. Chuck is suffering from a psychological disorder that makes him think he is allergic to all forms of electromagnetic radiation. So Chuck lives in a house without electricity, doesn't go out in sunlight, and needs Jimmy for bringing him food, newspaper and everything.
In his never-ending efforts to overcome his depressing situation, Jimmy works as a public defender. There he constantly gets into minor confrontations with the parking attendant Mike Ehrmantraut (Jonathan Banks). When Mike's tragic past catches up with him, he takes help from Jimmy, and they form a kind of working partnership. There is also Kim (Rhea Seehorn), who works in Chuck's previous firm and is a true friend of Jimmy.
These main characters, and a host of others, provide a strong foundation to build a story that's primarily focused on character development. Like any good story, there are other elements - suspense, surprises, emotional drama, a bit of violence etc. But what you are most likely to remember is the characters. Not just the main characters, but I am sure, many other characters would leave an impression on you. There are some strong normal characters, some quirky, some weird, some tough, some dumb. There is every shade available. It's also a perfect teamwork by the writers and actors. This series is unusually strong in the acting department. I cannot point out one subpar performance. I guess some credit should also go to the casting manager.
Actually, the series excels in every department, and not just acting. The writers have done a great job of partitioning the story into ten individual episodes. The cinematography is superb. Whether it's a desert scene, or a dark scene outside the office where Jimmy and Kim meet for chit chat, it's always done well. The music lends great support. The dialogues are realistic and never oversmart.
I cannot say enough good things about Bob Odenkirk's performance as the lead character. It's one of the best I have ever seen, and I will be shocked if he doesn't win the Emmy. His portrayal of a gifted talker and natural con artist, who is struggling to do the right thing by fighting temptations, is perfect, just perfect. Nothing is easy for Jimmy. Every time he sees a light at the end of the tunnel, something else happens. But he still tries to stay positive. This fight against a constant stream of depressing situations is perhaps the best part of Bob Odenkirk's performance. It's not cheesy, it's not manipulative, it's honest and classy.
I absolutely recommend this leisurely paced and fabulous drama. It's shows like this, that have made me spend more time watching a series than movies. There is a lot to this story than what I have provided as a synopsis. I purposefully avoid mentioning any kind of spoiler, not just the ending spoilers, but even the episode spoilers. But trust me, this is a very satisfying series. Near perfect. It's not at all for kids, but should be fine for older teenagers.
UPDATE : Please click
here for the review for Season 2 and 3
.